It's that time of year again !! I feel a little bit like special agent Dale Cooper. Or maybe the feeling of being Larry from the, at least in Europe, famous Sierra adventures from the early 80, solving all the puzzles and finishing the quests. That's what Allen & Ginter does to me, or at least the code breaker stuff. Not sure if I am really going to go for it because it feels like a lot, really a lot, of work with plenty of competition out there. Still, I have opened up a Twitter account to check the characters to see what is going to happen, noticed a stream of tweets coming in just an hour ago from the people in the town of Willow Cove.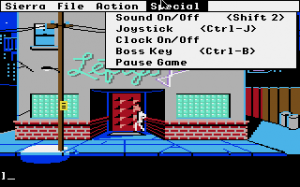 As you have probably figured out by now, yes, I as well have opened some 2012 Allen & Ginter this week ! I ordered 3 hobby boxes which arrived yesterday at my doorstep. For me, Allen & Ginter is always the most fun box to open with cool minis, inserts and great looking base cards !
So let's have a quick look and skip all the base cards and inserts as you have all seen those already at a dozen other blogs in the last few days. First up the N43s, I got 2 with one larger box loader which I didn't scan (but it's the same ugly roller coaster card that Chris at
Nachos Grande
pulled yesterday !). The two N43 I pulled were Schmidt and Bench, no auto on it sadly enough but still nice cards !
The 3 boxes included several non-baseball relics and, to be honest, being from Europe I didn't know these guys...
Luckily, some baseball players were also present ! I like the McCutchen, although the Hellickson is nice as well.
My 3 boxes contained one more "hit" which was a numbered mini !! I always love minis and these hand-written numbered minis are awesome (in my humble opinion). Here's Paul Konkero, not a bad name to pull a numbered mini of !
All in all, it was another fun rip this year, despite the lack of rip cards, bat booklet cards or big name auto's. The only BIG disappointment for me was that box 2 contained the SAME base cards (or 98% the same) as well as several of the same insert cards that I already got from box 1. Therefore, I am still only 2/3rd on the way of completing the full set instead of only needing a handfull of cards (now still need 98 or so). Luckily, Chris at
Nachos Grande
is still opening up the group case of A&G in which I have a nice slot hopefully enabling me to complete the set or come very close at least.
Thanks for checking my blog again and as I now have a bunch of extra base cards: if you need anything and you want to set up a trade let me know !